With a baby on the way, you may feel overwhelmed with all the baby registry must-haves & the things to do. But having a baby registry list of things you would need is the most important task which will help you to be organized. When I was expecting my first baby, I was not aware of all the things that were needed and had to do a lot of research.
What size baby clothes to buy, will a white noise machine work, do we need a crib or cradle, etc. Now with the experience of having two babies, I am glad I made the below baby registry must-haves list which helped us not just with a new baby but also to help my toddler adjust to a new baby.
Download your Baby Registry must-haves printable to keep it handy!
This post may or may not contain affiliate links which give me a small commission at no extra charge to you.
2021 Baby Registry Must Haves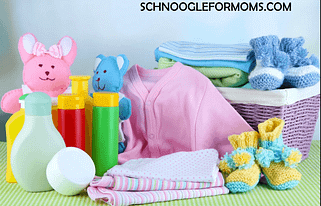 NURSING MUST-HAVES IN BABY REGISTRY
I keep talking about Haakaa a lot in all my blog posts. This is one thing that has been a must-have while breastfeeding both my babies. This $20 product has been my best friend during my breastfeeding journey especially with all the oversupply struggle. Haakaa helps you to collect all the extra milk that leaks while you are breastfeeding your little one. It helped me to stock up all the freezer stash both times.
I added this to my list for the second time after struggling with my first baby. It helped while we traveled with the baby anywhere. I did find some cool nursing cardigan which was of great help the second time. I can't remember a day without it.
Another must add-ons to the nursing list. Helps a lot to catch all leaking. Can you imagine breastfeeding without all the leakage! Uggh, it's the most irritating thing.
A nursing pillow helps in maintaining your posture which becomes very important with your postpartum body. I did not use one for my first and got one while I was pregnant with my second baby. It is great to know you get a nursing pillow that can also be used while pregnant as a pregnancy pillow.

5. NIPPLE CREAM
This would be your best friend for the initial week or so when your nipples are feeling sore. Here are some great suggestions for nipple cream.
6. BIBS
7. BURP CLOTHS
8. PACIFIERS
Honestly, I never used a pacifier for my babies. But always kept it handy during the travel (especially air travel).
9. FEEDING BOTTLES
Well, this again is optional. I did not buy feeding bottles in the first place. And my daughter was always against bottles. I had some bottles gifted during my baby shower and I kept them handy during the travel.
10. FORMULA (If you are not planning to nurse)
NURSERY MUST-HAVES IN BABY REGISTRY
I underestimated the use of this tiny sound machine when we had our first baby. Initial days were golden with my girl as she slept through the night right from around 6 weeks of her age. And that is exactly why I underestimated the use of white noise. As and when she grew up, she started waking up for every small noise. We tried a white noise on the phone for a couple of days when she was around 4 months and saw the difference in her sleep pattern. Soon ordered a noise machine and believe me, we still use it wherever we go. This was an absolute baby registry must-have for my second baby.

2. HUMIDIFIER
The use of a heater or AC at home makes the air dry for babies which can make it difficult to breathe for infants. A cool-mist humidifier in the room helps the baby sleep well. We always had the humidifier on in the baby room. And with my son who was born in winter, I could not imagine a day without it.

3. SWADDLES & SLEEPING SACKS
Another great product to use if you are struggling with newborn sleep issues. Swaddling babies make them feel secure and sleep longer. We swaddled both our babies and also used sleep sacks to help them sleep longer. These are must-haves for the initial postpartum days to help you and your baby get enough rest.

4. ROCKER OR GLIDER
These can be optional depending on how you prefer to soothe your baby. The initial days are hard for the baby to adjust without any motion to soothe them. We ended up bouncing on a birthing ball to help soothe my daughter and it was difficult to get rid of it till she was almost a year old. Hence decided to get a glider for my son which has become a must-have to the baby registry list to help my baby in nursing & soothing.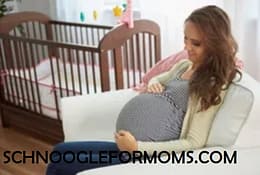 5. CRIB OR CRADLE
We always co-slept with a crib attached to my bed. And slowly transitioned our girl to crib completely at around 3 months of her age. It was advised by our pediatrician to make babies sleep in a crib or cradle to avoid SIDS. However, it was a big adventure transitioning her to crib with her sleep pattern changing with every milestone. A cradle-swing however helped us during the day with my second baby.

We did not use a baby monitor until my kids were around 3 months old. After which we started making them sleep in the crib alone and got back to our normal routine slowly. The baby monitor was a great must-have to the baby registry list to watch on the baby while we were not in the room.
7. NIGHT LIGHT
A must-have to the baby registry list while nursing or feeding the baby at night.

DIAPERING MUST-HAVES IN BABY REGISTRY
Diapers can make a baby's skin dry and prone to rashes. Diaper cream is a must-have if you are using disposable baby diapers.
Cloth Diapers not only save money, but they are also Eco-friendly and makes it more comfortable & stylish for your little one. We kind of used a combination of cloth & disposable diapers for both my babies. Check out the advantages and disadvantages of cloth diapers discussed in detail here.
I would suggest having multiple changing areas set up in your home so you don't have to run to a specific room every time the baby needs a change.
A diaper Genie or diaper pail is a great must-have if you are using disposable diapers to help in keeping the room fragrant free from all the dirty diaper stink.
BATHING ESSENTIALS IN BABY REGISTRY
We loved this baby bathtub. It had a waterfall attached and my baby enjoyed the warm water flowing and it kept her warm.
3. WASHCLOTHS
5. HOODED BABY TOWELS

HEALTH ESSENTIALS IN BABY REGISTRY
This was a great buy. Made the task very easy and it is safe on babies.

3. FIRST AID KIT

BABY GEARS
1. BABY CARRIER
There are lots of benefits to baby carriers. To start with, it reduces all the fussiness providing secure feelings to infants. Eases your daily routine and enhances parent-child bonding. There are good ergonomic carriers (this one is my favourite) and wraps & slings which can be used to carry right from the newborn phase.

2. CAR SEAT/ STROLLER
You can look up the details of the best travel systems of 2020 here.

3. HIGH CHAIR/ BOOSTER SEAT
You would need this while starting solids when the baby is around 6 months.

I hope the list above helps you in your preparation. Happy Parenting! 😁
Download your Baby Registry Printable or Pin it for later!