What to pack in a hospital bag for labour is an important part of your labour preparation. So, if you are reading this article, you must probably be in your third trimester and nearing your labour. It is always a good idea to pack your essentials and get ready for the big day as early as you think (I would trust Mom's intuition here).
When I was expecting my first baby, I did not prepare to pack until around 36 weeks. But with my second one, I prepared my hospital bag pretty early by around 34 weeks. And both times, I packed the exact essentials as shown in the picture below.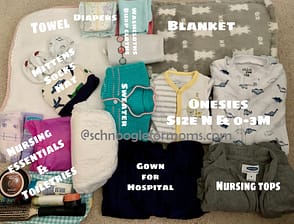 Though the thought of having a baby is wonderful, the process is not so pretty. Make sure to pack all your essentials as the hospital might only provide some things based on the jurisdiction you live in. Check out the set of essentials that are must-haves in your hospital bag for mom, baby and also the dad. And do to forget to grab the free printable which can be downloaded instantly.
Note: This post may or may not contain affiliate links, upon clicking I receive a small commission at no extra cost to you.
List of items required during Labor & Delivery – What to pack in a hospital Bag for labour?
Grab your free Printable that can be handy while you make your list of required items during delivery.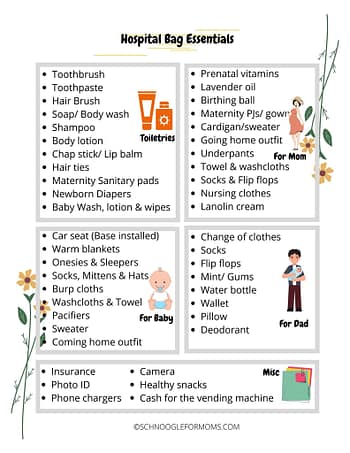 Toiletries – Hospital bag essentials for mom, dad and baby
Below includes the list of toiletries for mom, dad & baby. These are musts in your hospital bag and often we forget these most essential things.
Toothbrush
Toothpaste
Hair Brush
Soap/ Body wash
Shampoo
Body lotion
Chap stick/ Lip balm
Hair ties
---
Hospital Bag Essentials For Mom
The first 24 hours after birth can be super tiring, uncomfortable, and sore. Make sure to have some of your favourite comfy clothes and Nursing essentials packed. Make sure to check out all the postpartum essentials that you might need after giving birth.
2-3 maternity PJs or maternity gowns.
A cozy cardigan or a sweater.
Clothes for the trip back home
Old Underpants
Towel & washcloths
2-3 Pairs of socks
Flip flops
Nursing Essentials – If you are planning to nurse.
---
List of Items required during delivery for baby
Car seat and coming home outfit are the most important in the list below. The rest are all optional. You will not need too many clothes for the baby as the first 24 hours is the golden hour for the Skin to Skin process.
PS – it is always better to carry two different sizes as you cannot predict the baby's size before the baby is born.
Car seat (Base installed)
1-2 warm blankets
2 set of clothes (2 different sizes)
Onesies & Sleepers
Socks
Mittens
Newborn Hats
Burp cloths
Washcloths & Towel
Pacifiers
Coming home outfit
Sweater
---
Hospital Bag Essentials For Dad
Not to forget, dads, do need a set of essentials especially if they are going to be along with you during labour.
Change of clothes
Socks
Flip flops
Mints
Water bottle
Wallet
Pillows
Deodorant
---
Misc
Last but not least, have these essentials handy during labour. Well, you might not be able to enjoy the healthy snacks packed & may want to kill your husband snacking while you are in labour. But having snacks handy is a great idea.
---
Lastly, if possible it is always a good idea to have a relative or friend handy who can get the stuff you forgot to pack (We did have some awesome friends who are like family to help during our labour). Most hospitals are accommodating as well to provide any forgotten essentials.
Please note the above list only has essentials that are useful for a hospital stay of 1-2 days.
GOOD LUCK MAMA!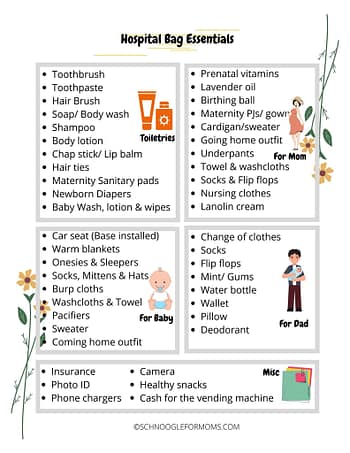 DISCLOSURE: Some posts on this site may or may not contain affiliate links.