Snacking during labor helps you maintain your energy levels. Here are some easy & healthy Hospital Bag snacks that can be packed. While you might wonder if you feel hungry or if you can even eat during labor, here is the answer – you might and it is a good idea to plan some healthy hospital bag snacks that help you keep hydrated and give you that instant energy. Grab your Hospital bag essentials checklist here and add the healthy snacks to it.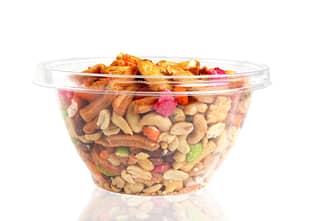 Can you bring food to the hospital when having a baby?
This was my biggest question when I was preparing to give birth. And the answer is yes! unless you are medically advised not to. While some moms do not feel like eating anything, some feel hungry and eating helps them keep up energy levels. It is always best to be prepared and pack a few snacks so you and your partner can enjoy them after you are done giving birth as part of your postpartum and breastfeeding essentials.
From my experience, both my labors were quick and did not have time to eat. But after giving birth, I ate up all the snacks I had packed in my hospital bag coz I was drained out and hungry.
Packing the hospital bag snacks not only makes it easier to grab and eat when you want but also saves a trip to running to the hospital pantry when you or your partner need that coconut water or the energy bar the most.
Can I carry hospital bag snacks to hospital?
Most hospitals now allow you to bring hospital bag snacks. Gone are the days when hospitals never let women eat anything other than ice chips. However, it is a good idea to check if the hospital you have chosen allow snacks. And also a good idea to check with your doctor coz as per the latest research, low-risk pregnancies do not have any eating restrictions while in labor.
Why do pregnant ladies eat ice chips?
Pregnancy and contraction pain can cause vomiting and nausea. Eating ice chips prevent dehydration. Ice chips provide small amounts of water rather than big gulps lowering the incidence rate of aspiration is the biggest cause why ice chips are given to pregnant women in labor.
Disclosure: This post contains affiliate links. As an affiliate and amazon associate, I earn commission on qualified purchases at no extra cost to you.
What kind of snacks should you pack in hospital bag?
The best snacks for labor bag are rich in carbohydrates and protein, super hydrating, highly nutritious or easy to digest.
Pick and choose the snacks for hospital bag that are super healthy and easy to carry.
Do not forget to pack snacks for your partner.
Pack extra non-perishable items that can come handy if you need to stay a little longer in hospital after the baby is born.
Pack the perishable items in insulated lunch box so that it stays fresh for longer time.
What snacks are good during labour?
Here is a list of healthy hospital bag snacks that you can pick to pack in your hospital bag. The list includes highly nutritious energy snacks that are best for mom & dad & also low in sugar keeping in mind gestational diabetic moms. My suggestion is to pack at least 4-5 snacks from the list just in case you have to stay in the hospital a little longer after the baby is born.
Protein Rich Snacks
1. Grab & go protein-rich snacks – I love these grab and go protein bars and you can choose a variety of flavours that you like; these make great snacks for hospital bag – easy to carry and easy to eat! Another alternate grab & go snack rich in protein are Pecan Caramel clusters & Protein Peanut Buttercups.
2. Protein wafers – This is a perfect light snack to take in a hospital bag that is easy to snack on when you are in labor.
3. Peanut Butter crackers – If you like peanut butter crackers, this has a variety pack of sandwich crackers that make a perfect hospital bag snack.
4. Peanut butter cookies – I recently tried these 2 ingredient peanut butter cookies and they were super easy and tasty. They not only make a great hospital bag snack, the fact that it includes dates and dates are known to fasten labor + it is homemade and highly nutritious.
5. Cheese – Packing a few cheese sticks or cut cheese cubes are a great hospital bag snack.
6. Protein shakes – Hydrating is a must when you are in labor. Protein shakes make a great hydrating snack idea for the hospital bag.
7. Yogurt – Yogurt or yoghurt melts makes a perfect snack for a hospital bag.
8. PB & J – A toast with peanut butter and jelly is a comfort food packed in your hospital bag that makes a homemade snack to carry.
Super Hydrating Snacks
1. Coconut water – Coconut water is a great hydrating snack with natural electrolytes. I loved carrying coconut water even for my general checkup during pregnancy. But some can feel nauseous with no flavour in it. You can even try the peach mango flavoured or pineapple flavoured ones.
2. Fruit juice – Fruit juice packs are the best snacks for labor bag. Apple juice, pineapple juice or even mixed flavours are a great idea.
3. Gatorade – Gatorades are the best energizing drink you can carry in your hospital bag. They give you instant energy with the electrolytes added to them.
4. Electrolyte powder or hydrating drink mix – You get this sugar free electrolyte powder that is affordable and helps you keep hydrated for a long time.
5. Raspberry Leaf Tea – There is a number of uses of raspberry red leaf tea and it is also known to quicken labour. You can buy this in bulk and drink it through your third trimester to help you with your labor.
6. Popsicles – If you get a chance you should definitely pack some popsicles of your favourite flavour. You will get ice chips in most hospitals but bringing your popsicle can be a good idea.
7. Water – That is the most popular one. I am sure you would carry a bottle!
Other easy digest snacks
1. Fresh fruits – Have your partner pack some fresh fruits before going to the hospital. In case you cannot, you can even grab fresh-cut fruits from a convenience store. They are the best choice to help you snack on without worrying about digestion.
2. Veggies and hummus – Another great choice and easily available.
3. Boiled eggs – They are an excellent choice filled with protein to eat right after giving birth. Plan to pack a few in an airtight container in your hospital bag.
4. Popcorn – A healthy and easy snack that you can snack on during your contractions.
5. Nuts – Almonds and peanuts are rich nuts you can choose to pack that help release energy during labor. Plan to pack them in advance or even grab a mixed nuts packet from a store.
6. Muffins – Muffins are a great take out snack. You can plan to make some in advance or buy them from a store. Alternately, you can even try to make these energy powered lactation cookies which are delicious and also a breastfeeding friendly snack!
7. Edamame – Another easy digestible healthy snack that you can pack in your hospital bag. You get fried edamame in stores. Grab some well in advance as they won't go bad.
8. Pretzel sticks & Trail mix – A classic set of items that come to mind when you say snacks! Grab some extra packs so your partner can also snack on them while supporting you.
9. Premium chocolates – Labor is hard work! Treat yourself to some special premium European chocolates that can help you relax.
10. Digestive Biscuits – Digestive biscuits are the best snacks for labor bag especially if you are a gestational diabetic.
In case you are unable to do your shopping and think your labor is nearing, grab this assorted snack box that includes some good hospital bag snacks.
What foods help with labor?
While some say Midwives Brew is great to induce and fasten labor, some also experience fast labor when they eat:
Pineapple
Spicy food
Dates
Balsamic vinegar
Raspberry red leaf tea
From my personal experience, I went into quick labor and gave birth to my baby within 2 hours after I ate spicy food (not intentionally though 😁).
Conclusion
When you are in labor, it is normal to forget to grab food or hospital bag snacks in your hospital bag. But it is known that if you eat well & stay hydrated, it is easy to manage your labor pain and have quick labor. And sometimes food can solve a whole lot of tension. Hope the above list helps you with some snack ideas to pack in your hospital bag. Do not forget to grab your hospital bag checklist.
And here are some signs you need to know that tells you your body is getting ready for labor. While you prepare your hospital bag, do not forget to prepare your postpartum bag and stock up on baby essentials and prepare your home for baby's arrival.
Good luck mama! ❤