Toddlerhood is a curious & wonderful age and the best toys for toddlers are tough to pick. At about 2 years, they most likely get excited with colours and shapes. While the curiosity doubles, their attention span reduces and most likely you will know what interests them the most. Along with running, kicking and throwing things, their crankiness and the need for attention doubles. And that becomes hard for parents to manage. Here are some toy recommendations that is parent and toddler approved that helps them learn new skills and keep them entertained.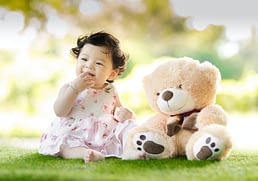 Being a mom of a 2-year-old and 1-year-old, I constantly felt a need to buy toys to keep my kids occupied & also help her learn new skills. Well, here's a list I have put together from my research and are all recommended by experts. Do check out the easy and simple toddler activities at home to keep them entertained. These options are also great if you are looking for unique gifts for toddlers.
Note: This post may or may not contain affiliate links, upon clicking I receive a small commission at no extra cost to you.
Developmentally appropriate educational toys for toddlers (According to the experts)
Tell me how easy it is to fill up your shopping cart when it comes to toddler toys! But when you give a serious thought, most of them do not help with any kind of learning or development. So the truth is it is very hard to find age-appropriate best toys for toddlers that also helps with their development. Here is a list I have gathered from the child development experts to keep your 1-3-year-olds challenged, engrossed and entertained. You can use this list to pick up gifts for toddlers who are between 1 and 3 years old.
1. Shape Sorter By Melissa & Doug – A classic shape sorter that helps toddlers learn shapes and colours while having fun putting them in and out of the box.
2. Melissa & Doug First Bead maze – A classic toy with twists and turns. It is an exceptional development toy for toddlers with shapes, colours and textured beads. And a great activity while they are on a high chair making it a great option to gift a 1-3-year-olds.
3. ALEX Toys – Early Learning String and Beep – A great for little hands. Helps little kids string chunky wooden vehicles together helping them develop fine motor skills.
4. Toddler Busy Board – A Montessori activity that keeps a toddler busy while helping them with fine motor skills. It is also a great sensory toy helping toddlers learn to zipper, tie shoes and learn to buckle.
5. Kancai Wooden Shape Toys – Another great stacking toy for toddlers to help improve cognitive ability and in learning shapes and colours. This makes an amazing gift for toddlers 1 – 3 years.
6. Magformers – This is a great educational toy for toddlers helping them get creative and develop STEM skills making learning fun and inspiring. Magformers also help to develop reasoning, mathematical thinking and modelling skills.
7. LEGO Train Building Kit – This easy to build train kit is a fun toy for toddlers. It includes three wagons and blocks decorated with numbers helping with fun learning.
8. Discover Button Art – Another great activity toy for toddlers to help with fine motor skills and creative thinking. Each button has a letter on it helping preschoolers learn and develop hand & eye coordination.
9. Magnetic Wooden fishing game – This magnetic puzzle game is a great replacement for screen time and helps toddlers with hand-eye coordination.
10. SmartMax – A great STEM toy with no limits on creativeness for young minds. Absolutely a great gift for 1-3 years old.
Push & pull unique gifts for toddlers
Push and pull toys not only work great at 1 year when your baby is trying to make their first move but are also great entertainment and learning toys for toddlers at 2 or 3 years. Here is the list of push & pull toys that have been approved by parents and toddlers.
1. Hape Giraffe Wooden Push and Pull Toddler Toy – These cute wooden toys are fun to push around with wheels on it.
2. Hape Fantastia Building Blocks Toddler Push and Pull Train Set – An amazing pushing train set with blocks that can be built and have wheels to make it fun pulling around.
3. Fisher-Price Corn Popper – A classic toy with wheels to push and pull. Thanks to the sound it makes while pushing – adds extra fun to little ones.
4. Little Tikes Lil' Wagon – A classic wagon that can be used for years and it's fun to push and pull around.
5. Baby Walker Sit-to-Stand Learning Walker Kids Activity – One of the best toys for toddlers which comes in handy when they start their first steps. Thanks to all the learning activities on it that makes sounds add more fun.
6. VTech Pop-a-Balls Push & Pop Bulldozer – A cute toy for toddlers with a seesaw, slide and play music and lots of entertainment.
7. Leapfrog Step & Learn scout – Another best toy that comes with a leash to help push and pull around the pet puppy with playful music.
8. Fisher-Price Chatter Telephone – An interactive chatter telephone that can also be pushed and pulled using the string. makes cute noise while dialing and the eyes roll when pushing or pulling.
9. Wooden Ride-on Toddler push & pull toy – A cute ride-on wooden toy for toddlers.
10. VTech Drop & Go Dump Truck – Push and pull toy for toddlers that make sounds.
Best Stuffed animal toys for toddlers
There is no age limitation when it comes to stuffed animals. Be it for pretend play or sleep pal or stress relief, these stuffed toys are a great companion and recommended by stuffed animal experts.
1. Squawking Chicken Musical Stuffed animal – It makes squeak noise – an interactive and soft stuffed animal to hold on to.
2. Walking puppy dog – This cute stuffed puppy is a great add-on to toddler toys and it walks around.
3. Fisher-Price Laugh & Learn Puppy – With different levels and playful music, this puppy is a great companion for toddlers.
4. Bedtime originals Jungle fun plush monkey – Embroidered eyes and nose, this plush monkey is extra soft and hard to let go of.
5. Aurora Foxie Fox Stuffed animal – A variety of Aurora stuffed toys are made to give extra comfort and a cuddly feeling. Useful for bedtimes.
Pretend play – Best toys for toddlers
Toddlerhood is a great age to learn new stuff. Pretend-play toys spark your toddler's imagination helping them to be creative, learn to communicate and build their social & emotional intelligence. Here are some pretend-play toys that greatly help.
1. Cute Stone Kitchen Sink toys – Playing in a kitchen and imitating parents cooking is a fun activity for toddlers. The water in the kitchen sink and lights make it more realistic.
2. Pet care playset – Grooming and taking care of puppies is a fun game for toddlers and this toy includes all the grooming essentials that will make playing fun.
3. Fisher-Price Medical kit – Pretending to be a doctor and treating boo-boo of their toys is an all-time fun activity for toddlers.
4. Leapfrog Scoop & Learn Ice cream cart – The magic scooper helps scoop tasty-looking coloured ice-creams. This toy comes with playful music making it realistic for toddlers.
5. Dinosaur Toy figure with the Activity mat – A great activity mat with realistic figurines making pretend play fun alone or with friends.
6. Melissa & Doug Hand-Painted Wooden pieces – Tiny food baskets filled with imaginary food helps toddlers with fine motor skills and have fun to watch the little one make a yummy meal.
7. Toy construction tools – Enhances imaginative play with tools and these toddler safe tools make games fun.
8. Melissa & Doug Spray, Squirt & Squeegee Play Set – A cleaning supply as realistic that help toddlers with pretend play.
9. Kids Garden Toys Summer Outdoor Indoor Toys – A garden essential kit with realistic tools to help little hands explore.
10. ZesNice Kids Makeup Kit – Toddler safe products that almost looks real is fun for a toddler to play with and pretend to make up.
Best books for toddlers
Reading is a great activity to encourage toddler development and help them communicate. However, trying to pick the best books for toddlers is a difficult task. Here are some recommended books by experts that help with learning.
1. I Spy – Everything!: A Fun Guessing Game
4. P is for Potty! (Sesame Street)
5. I Love You to the Moon and Back
6. Dear Zoo
8. Who: Chunky Peek a Flap Board Book
9. Little Friends: Home Sweet Home: A Lift-the-Flap Book
10. Bright Baby Touch & Feel Colors