Can you ever make a choice – working mom vs stay at home mom? I could not. I still cannot! Lol. It is the hardest decision I ever made in my life.
Well, it is pretty normal to be hopping between working mom vs stay at home mom with all the mom guilt and the juggling everyday with kids and work. Yet the whole working mom vs stay at home mom debate has always been around. While there are pros and cons to each one in reality, it is one topic that never stops to spark hefty competition and judgement. Can you relate? Share your thoughts in comments below.
While I have had a chance to stay at home with my kids for almost 3 years before I joined back work, I still cannot figure what world do I enjoy – working mom or SAHM! Being a working mom definitely creates a strong mental image of myself with all the abilities to be able to manage, yes a super woman kind of feeling. But at the same time as a stay at home mom I was not any less a super woman with all my focus on my family's growth and well-being.
If you are reading this for the first time, Hi I am Rashmi and I am a full-time working mom! I have also been blogging since 2 years and I love that I have a successful mom blog with my lovely mom community and I also started a kids food blog to grow my passionate cooking love. Do check it out! Hope you can find some useful topics that you can relate with you life!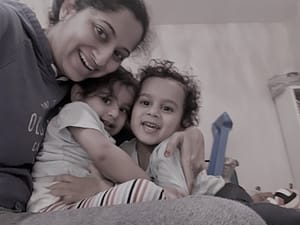 PS: I don't want to cliché the topic to be around mom. I hear a huge increase in dads choosing to be stay at home recently. And I do have a lovely husband who reminds me of that choice every time I am in a dilemma. Yet however, I choose to talk specifically about moms just because I can relate.
Which is harder working mom vs stay at home mom?
Both! But it is also the best feeling! I was a stay at home mom for almost 3 years before I joined back work. While I was SAHM I enjoyed spending time with kids and dedicated all my spare time to work on my blogs. Though getting back to work is not the same when you have kids, I feel it is a huge adjustment for a family. And being able to manage work and kids is a great achievement too!
Stay at home mom
Do not go by the name! Stay at home mom is a full time job in itself. Being the biggest influence of your child is a huge mental load to carry. It definitely needs courage to choose to be a mom that prioritizes family over a career. But in reality, there are tons of women I know who chose to be a stay at home mom and also choose to nurture their passion along. I admire them!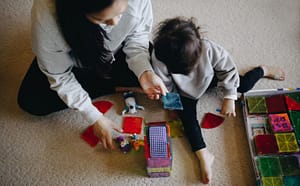 Emily at Crayon and Spice say – "I knew before my daughter was born that I wanted to stay at home with her. When I went to quit my software developer job, my manager tried to convince me to stay. He offered to let me work part time from home. He told me that my baby would be napping or content doing her own thing for at least 4 hours a day.

I ended up quitting anyways and later laughed at the concept of 4 free hours. My baby rarely took even 20 minute long naps and constantly wanted held and walked around. While I still appreciate my manager trying to find middle ground, he was so wrong about how much work being a SAHM is."
I cannot agree enough with Emily. Being a mom is a full time job. Having an expectation of working for fixed hours with someone along with caring for a baby's need is not easy.
Working mom
With that being said there are also situations that play a major role. Choosing to be a working mom is also not easy. It comes with a lot of mom guilt to deal with. Coming back from work to see you missed your baby's first crawl or you missed the special moments because you had to work is a permanent image that haunts every working mom.
Mel at Parenting High schoolers say  "Any mom is a working mom. I stayed home with my kids, so I full time took care of house, meals, laundry etc. I side hustled from the time our oldest was about 6 mos. old. He is now 25. At one time, I had 6 outside jobs which included writing my blog, cleaning houses, teaching preschool part time, running errands for the elderly, subbing for elementary school, and answering phones at an office on off hours.

No matter what you do when you are a mom, you are working. Staying home did give me lots of flexibility, and I am grateful for that. As I blog for parents of tweens and teens, I always want to support those moms whatever they are doing, and wherever they are at in the parenting process. Every mom, no matter what is juggling lots of balls, so let's support one another."
Mel puts it across so well! I always looked at my mom like a working mom even though she was at home for us always because we never see her resting. Being there at home full time comes with all the hidden workload that magically gets done because we have moms doing them behind the scenes.
Related: Check out simple activities at home to keep your toddler busy
Are stay-at-home moms better than working moms?
No judgement! Both working mom vs stay at home mom has their own pros and cons. The last thing a mom wants to hear is someone judging if either one is better.
Choosing to be working mom vs stay at home mom is not easy. From my experience it takes a lot of courage and a few sacrifices to be a stay at home mom.
As a working mom, I know how hard it is manage work, home and kids altogether. With the new era of working from home, it has been a blessing to be able to work my job fulltime while watching my kids and caring for them but it is still tiring. Here are a few tips to help working mom overwhelm from Lisa, a mom friend.
But surely there is no comparison to say who is better. The grass is always greener on the other side! It is time to respect and be proud of what we are doing!
The Verdict – Working mom vs stay at home mom
It is a hard topic of debate! And an easy one to make judgements too.
While the choice of being working mom vs stay at home mom is sensitive and situational, it is also important to not judge a mom based on the choice.
I do remember answering questions of getting back to work during my maternity leave and the eyebrows raised when I often thought of being a stay at home mom.
The truth is, it is hard to be a working mom and it is hard to be a stay at home mom. And neither is right or wrong! Do you agree? Leave your thoughts and comments below.