Being a dad – While I enjoy being a mom, I more than love watching you become a perfect father to our children! I wouldn't be the mom I am without you! Here's a fathers day letter to my husband thanking him for being my side while we transitioned into parenthood together.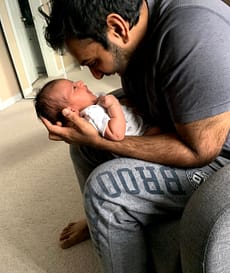 We never thought our life would be like today back in our carefree college days. Life with you has been just wonderful and has brought me more joy than I deserved. I now look back and feel I did not just choose a great husband but a perfect dad to our children. Watching you being a dad has been the greatest gift that I will always treasure.
A couple of years ago, we both feared being parents and bringing up kids. I always admired your capacity of being a dad and you never miss to amaze me every day. There were challenges, struggles and all the feelings of love and excitement of our own as a new mom and dad. But TOGETHER as a team, we have it all! And I want to thank you over a million times for being there.
Right from attending prenatal classes, learning baby chores, dividing up mundane tasks to taking up the greatest responsibilities – your commitment to our family is always acknowledged. Your constant dedication towards our marriage is something I am grateful for.
I always remember you saying "We have everything when we have each other" and I think that is what has strengthened our bond. While date nights are rare and finding moments to even talk to each other has been challenging in these past 3 years, I have never felt more loved and appreciated by you.
The transition to Dadhood!
I cannot forget the day when we found out you were going to be a dad. The joy, the fear and all the excitement I could see in your eyes when the doctor confirmed the pregnancy test. Thank you for putting up with all my tantrums and transforming into the world's kindest, most patient husband and took care of us during the pregnancy days. Thank you for being a supportive dad and helping me transition during my postpartum. Thank you for playing an essential role being a dad and for taking care of every small thing that really mattered to me.
Thank you for checking on me if I am feeling ok even when I had series of complaints. Thank you for making me smile even when I am grumpy. And all those me-time you try to give me – you don't know how much I appreciate and value your concerns even if I don't express them often. Being a dad has made you an even better husband & I love you for that. This fathers day is super special as we celebrate parenthood parenting a toddler (26months) and a baby (8 months) at the same time successfully as a Team!
Being a Dad – The Unseen Super Hero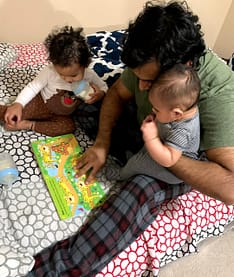 When people ask me how I manage two little ones all by myself, I laugh and wonder what would I do without you. If people see me as a good mom or appreciate how I am managing, it is only because of all the unseen efforts by you that go behind. I really wouldn't be the mom I am without you being with me. Thank you for everything you do without complaining.
Working tirelessly to provide for our family and still manage to stay on top with daddy duties diligently might seem small at times, but they are of great importance and never go unnoticed. The countless number of sleepless nights rocking a fussy baby, comforting sick child by staying up all night and yet working during the day; Entertaining and playing with kids even after a long tiring day; encouraging; coaching; safeguarding and loving them every day – You have laid a super-strong foundation for them to grow.
Thank you for becoming the kind of dad I always knew you would be – Patient, fun and loving. The way both Miraya and Mivaan glows at you and giggles the moment they see you show that how perfect a friend you are to them and not just a dad. I hope we make you feel celebrated every single day. Coz you deserve it! Happy Fathers Day Love ❤
Related Article: A letter to the girl who made me a mom