While everyone rage about breast milk popsicles and how it helps teething babies, have you ever thought if formula milk popsicles do the same? The answer to this question is a straight NO. Here are the reasons why you cannot make formula milk popsicles.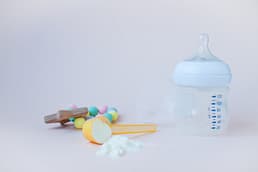 Disclosure: This post contains affiliate links. As an affiliate and amazon associate, I earn commission on a qualified purchase at no extra cost to you.
What is Milksicle or Baby popsicle?
Frozen milk or a fruit smoothie or any kind of ice pops are fun for kids while also having some cooling effect on teething babies. Normally these popsicles are made of just breastmilk for infants who are under 6 months. And they seem to have a soothing effect on babies sore gums.
Momsicle or Breastmilk popsicle is a mom & lactation consultant recommended frozen human milk pops that help soothe their teething gums. Research says cold and chewing pressure can relieve localized pain relief. And human milk or breast milk contains analgesic properties that is known to relieve teething pain.
However, formula milk popsicles sound like a good idea but it is not recommended for various reasons including the fact that there can be potential problems of bacterial growth.
Related: Did you know you can use expired breastmilk? Here are 4 simple ways.
Can you make popsicles with baby formula? aka Formula milk popsicle
As good as it sounds, formula milk popsicles are not recommended for babies. Here are some reasons
1. Freezing formula milk can encourage Bacterial growth
It is not known that formula is being tested to be frozen hence no one is certain if you can freeze formula milk and give it to babies. Unlike breastmilk, the formula is not sterile and might entertain some harmful bugs which normally gets killed in the bottle preparation process. It is not recommended to mix formula with water that is cooler than 70 degrees to help kill any kinds of germs and bacteria in it.
2. Possibility of milk separating
Unlike breastmilk or cow milk, there is a high probability of formula milk separating and altering its taste. Some moms who did an experiment did agree with the composition changes and the altered taste of formula milk popsicles.
3. Damage to the nutritional composition
While it is known that even breastmilk loses some nutrition while frozen, there is no real evidence of how much formula milk can be affected. Defrosting formula milk might not only lose its composition but also affect the nutritional value.
Is it OK to freeze formula milk?
While there is no real evidence to freeze formula milk, the companies do warn not to freeze formula under certain temperatures. Here is Similac detailing the guidelines for infant formula.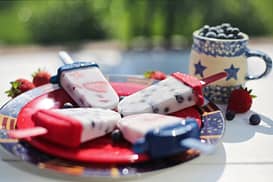 What can I freeze for teething baby?
If you are a mom who is looking for alternatives from frozen breastmilk to soothe a teething baby, here is the list of ideas that can come in handy. Please note, frozen fruits or fruit purees are only recommended for babies who are older than 6 months.
For infants under 6 months, try these:
Frozen Breastmilk popsicles
Refrigerated pacifiers
Frozen cloth – To rub against their gums slowly
For babies 6 months+ :
Frozen breastmilk popsicle (you can use variations by mixing fruits or fruit purees in breastmilk).
Frozen fruits or fruit purees (grapes, watermelon, strawberries, blueberries works wonders). Note: Use a fruit feeder while you are giving them frozen fruit to avoid choking.
Water in a bottle upside down so that the water is frozen at nipple helping them chew on it to soothe.
Frozen yoghurt – you can even try mixing fruits or vegetables variations.
Other natural ways to ease teething pain
Massaging baby's gums gently has been a great tip that is working for most of the moms.
Teethers that they can chew on.
A homemade teething biscuit that is free from sugar & salt. This is a great way to ease teething pain.
A teething toothbrush that helps soothe teething baby.
A teething mittens that has been a mom's choice.
An over-the-counter drug – Tylenol or Advil is recommended by paediatricianespecially when they are super cranky and crying.
Teething can be very uncomfortable and irritable for babies. But it is temporary and things do get back to normal. Brace yourself & try to be patient. Meanwhile, see what helps ease your baby to help them sleep better. In my experience, breastmilk popsicles and teething biscuits really helped my kids.
What should you not do when your baby is teething?
While teething can be very uncomfortable, please avoid trying the following:
OTC remedies for teething including homeopathy medication – Do not try any kinds of teething gels or medications you get it over the counter however tempting it may seem. There has been serious side effects noted for some of them.
Teething Necklaces or bracelets – With the risk of choking, it is better to avoid any kinds of teething necklaces or bracelets.
Bottom Line – Can you freeze formula milk for teething?
Based on research, it is not evidently safe to freeze formula for the reasons mentioned above. However, breastmilk popsicles, fruit popsicles, refrigerated teethers, gum massage and other natural methods are well known to ease teething pain in babies without any intervention. That being said, teething can be managed with a few home remedies but do contact your doctor if the baby is uncontrollably uncomfortable or cranky. Take care!