Though breastfeeding is a natural process, it can be very overwhelming for first-time moms and no one ever talks about preparing to breastfeed a baby while you are expecting. Though each pregnancy & baby is a different experience, preparing to breastfeed well in advance is always better than panicking in your postpartum. I do not want to scare you. A lot of women do not have any breastfeeding problems and these tips help you by educating yourself as to what to expect while breastfeeding.
When I had my first baby, the initial days were very overwhelming with round-the-clock feeding, sore nipples, engorgement; slowly things got better and I was comfortable nursing my baby. And I still feel I could have been much prepared and had a better idea if I knew more before childbirth. Read about the benefits of Breastfeeding and the importance of Golden hour to understand why they rush into making you nurse the baby the moment they are born.

List of things I wish I knew when I was preparing to breastfeed my baby.
BONUS: Look for real experiences shared by other moms on their breastfeeding journey in this post.
DISCLOSURE: Some posts on this site may or may not contain affiliate links.

1. Understanding when Breast milk comes in.
A lot of us are worried about this in the initial days and the added stress effects and delays the milk production. I wish I knew that normally, breast milk only comes in by day 3 or 4 after the baby is born. Until then, the baby is fed colostrum that your body is preparing right from the second trimester of your pregnancy. Though the colostrum comes in small quantities, it is enough to fill your baby's small tummy. Read about milk making and how much does the baby need based on their age here.

2. Is it Painful to breastfeed a baby?
This is a general concern for all the new moms. I was worried and had almost decided not to breastfeed before my baby was born. Now I can confidently say that it need not be painful at all although there might be some discomfort in the beginning soon everything will be just a new normal. And there are a lot of things that can help you with the soreness that normally happens during the initial few weeks. Lanolin cream, different positions of nursing, Breast Therapy packs are some of the breastfeeding tips that helped me to an extent. Also had to switch between using a nipple shield in the initial days to help me with soreness.
3. Educate yourself
The most important thing I learned from my experience is educating yourself about breastfeeding and the unknowns that can happen- knowing a few tips can help in easing the process. Although it is a natural process to breastfeed, it always does not come naturally. Have an open mind for options and know your options. Here are some concerns I have commonly heard from moms: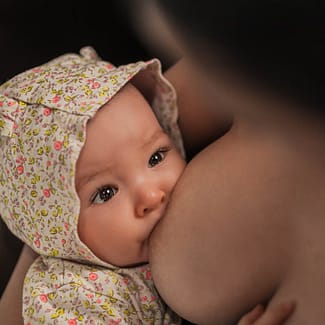 i. Latching
Latching is very crucial for successful breastfeeding. Some babies can latch on their own and some need help. Either way, there are quite a lot of positions that you can use to help the baby latch without causing you any pain or damage to your nipples. Take help of lactation consultants and breastfeeding clinic if need be. And do learn about how to latch and things you need to stock up while you are preparing to breastfeed your baby.
ii. Hand Expression
It is definitely very helpful to learn about hand expression (this Stanford video for hand expression is very helpful) way before the baby is born. This was of great help during my initial days. My breastfeeding journey started with engorgement and it was painful. We were blessed with a good supply but my baby was too small to handle the flow, so she ended up sleeping at the breast within a few minutes as she got more than what she needed. And I struggled with engorgement every now and then. Learning how to express was the greatest saviour that helped me express extra milk and relieve engorgement. Read more about why and how hand-expression helps.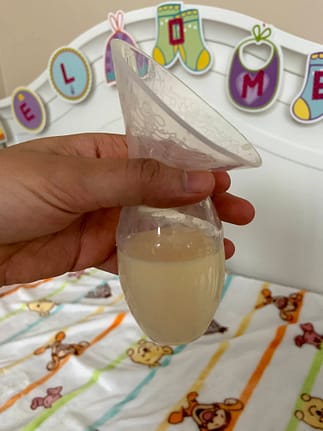 iii. How to keep up the milk supply?
This is a concerning question all of us have. And what I have learned from my experience is – the only secret in keeping up the milk supply is the nursing baby more often. The only way the body produces the supply is when there is a demand. And your baby is the only one who can signal the demand by emptying your breast. Of course, there are supplements like lactation cookies that can help temporarily but eventually, your baby drives the supply. Here are some breastfeeding tips from my lactation consultant that can help you while you are preparing to breastfeed your baby.
iv. Pumping
Pumping is just another way of breastfeeding and it also helps in keeping up with your supply. There can be various reasons why you might have to pump – baby might delay latching, you may need to pump after a feed to increase your supply, or any health condition that might prevent you from feeding. Keep an open mind to pumping and most importantly, when you are an exclusive pumping mom – you need to make sure to have a pumping routine to help you keep up with the supply.
v. Learning cues from Baby
The most beautiful and the most difficult part of motherhood is understanding your baby's language. It took me a while to understand. We had a list to follow when the baby cried – feed, burp, check diaper, check if it's hot/ cold. And almost all the time boob was the winner 😆. Slowly with time, you will learn to read whether the baby is hungry or not. Never ever jump on worrying that the baby might not be getting enough milk – this is one of the breastfeeding pro tips to stay relaxed.
Honestly, I had no clue about cluster feeding until my baby was about 3 months. And I constantly thought if there was a supply issue. In fact, I got to know I had way too much supply & my baby was just cluster feeding. So, if you are a new mom, preparing yourself to breastfeed your baby more often. Some babies get really fussy during this time. It is normal & it does not mean your supply has reduced. The baby tracker app will be very helpful to monitor the changes & also help you with the information on which side you nursed last.
vii. Milk Storage
There can be various reasons why you would need to store breastmilk. Be it baby missed a feed or you have to get back to work or you can be a mom who is exclusively pumping or you can be an oversupply mom like me. I must say under any circumstances, the liquid gold can never go waste – even when it's expired. Read about the storage guidelines and do keep it handy.

4. Ask for help or Get breastfeeding tips from experienced moms.
It is totally fine to ask for help when you need one. Every woman has a unique experience and they all would know some things which might be of help to you. I cannot be thankful enough to those who really helped me and supported me during my breastfeeding journey. When in doubt, there is always a lactation consultant and IBCLC to go to.
There is a lot of help offered at breastfeeding clinics from the Peel region free of charge for new moms. Also not to forget about my favourite Breastfeeding course, I still log on when I am in doubt or have questions about breastfeeding. You can never get enough help when it comes to breastfeeding.
5. Real Experiences shared by Moms
Alison from Unbalanced Women shares her positive breastfeeding experience.
"I had sooooo much anxiety about breastfeeding issues. I knew a couple of moms who've been successful but all I could find on the internet was a problem after problem. I had zero issues with either of my 2 kids. One was a slower eater than the other, but no infections, no tongue ties, nothing but just sweet blissful time (after that initial ouch of like 3 weeks getting the hang of it). I just think the internet's more full of negative than positive regarding it."
Leigh shares her latching experience and how she exclusively nursed her two babies.
"As a new mom breastfeeding was very stressful. I wanted to listen to the consultants. They told me her latch wasn't right, that if it hurt it wasn't right if her lips weren't flanged it wasn't a good latch. But, when I listened to myself and to my baby, we found our grove without their help.

The first few weeks, of course, I wasn't comfortable. I had never had another human being sucking on my nipples around the clock, but then it calmed. I nursed her exclusively through her first year and that baby had rolled. Now, her brother is 9 months, exclusively breastfed, and a chunky little love! Listen to your gut, try not to stress because that makes the whole experience terrible. You are their momma! You know what to do!"
Sarah from Sarah Reck, MD shares how she managed to keep up the supply
"I pumped, nursed, and pumped after nursing to get extra milk." Read about how she managed to nurse for five and a half years between 4 kids.
Mallory from Mama on Parade shares her exclusive pumping journey
"Sometimes normal breastfeeding doesn't work, and that's ok. I tried everything to get my son to breastfeed. After 7 very painful weeks, I finally stopped trying to force him to feed and switched to exclusive pumping. I pumped for a year for him and ended up being able to store enough milk to last until he was 2. It was the best decision that I could have made for him. It may not have been traditional, but it still allowed me to feed him breast milk rather than switching to formula."
And Kealy from Little Bear Care shares how she struggled but didn't give up.
"Just because breastfeeding is natural doesn't mean it's easy! I became a lactation counsellor after I struggled to breastfeed my first baby. I experienced over-supply, clogged ducts, mastitis, exclusive breastfeeding, exclusive formula, re-lactated and exclusively pumped. My daughter had a tongue tie, jaundice, and nipple confusion which started things out difficult for us."
Sierra from Focus Momma Focus shares how she managed to breastfeed & pump at work.
"I breastfed exclusively both of my children until 13 months while working full time. I returned to work after 3 months each time so my experience comes from the lens of a breastfeeding/pumping at work mom. I would say: Deciding to breastfed requires an entire mindset shift in how you think. If you are in it for the long haul, it will take a lot of discipline and persistence.

You will feel at times like your body is not yours, you will feel discouraged at times and you will have many moments when you just want to give up. Remember your "why" during those times and know your limitations. Try and create an environment that is supportive of your decision to breastfeed, it will help tremendously."
Brittany from Brittany Stephens Designs shares how a lactation consultant was of great help in her breastfeeding journey.
"Breastfed both my children my son is almost 2 and we're having a hard time weaning, we're down to only at night. My daughter was a premie, 4 weeks early, and breastfeeding was a struggle from the start. The best decision I ever made was the help of the lactation consultant while still in the hospital. Both my children had breast milk jaundice and I had to feed formula for about 10 days without breast milk. It was very hard.

I worked 40+ hours a week with my daughter and pumped 3-4 times a day at work and struggled with supply, she weaned herself at about 9 months old but I continued to pump until she was about 14 months old. I tried everything to increase my supply with my daughter. My son had no problems latching or feeding and I had mastitis a few times with him. Breastfeeding isn't easy but worth a try. I'm happy I stuck it out with both children."
Read about Amandela's Breastfeeding Journey. She beautifully explains how she dealt with the social, physical & emotional stress of breastfeeding.
I hope the above experiences from moms and a few breastfeeding tips help you with your preparation to breastfeed your newborn. I want to conclude by saying – No matter what path you choose to feed, you are the best judge. Motherhood is not defined by the methods you feed the baby – breastfed or bottle-fed or formula-fed, they all turn out to be fine and you mama, is doing an incredible job! 💖

Share it across with those for whom it will be helpful! Celebrate Motherhood 🎀.