Clogged Milk ducts are so painful for breastfeeding moms, ever wondered if Haakaa Epsom salt trick would work? Or ever thought of using Epsom salt to unclog the milk duct? With various potential causes that lead to clogged milk ducts, if not treated it can lead to breast infection or mastitis. Check out this awesome hack that helps you relieve clogged milk ducts quickly.
Disclosure: This post contains affiliate links. As an affiliate and amazon associate, I earn commission on a qualified purchase at no extra cost to you.
What does a clogged milk duct look like?
A clogged milk duct is a hard tender lump that is formed in the breast blocking milk flow and causing redness and swelling leading to breast engorgement. Normal causes are missed nursing sessions, latching issues, skipped pumping sessions or wearing tight clothes, it is pretty common with breastfeeding moms.
The most common symptom of a clogged milk duct is the pain on the side of the breast where the knot or duct is. Some even experience a red or pink spot that is tender and warm to the touch.
How do you unclog a clogged milk duct with Haakaa?
All you need to unclog a clogged milk duct to treat breast engorgement treatment is
Warm water
Here are the steps you need to follow:
Fill up the magical Haakaa with warm water until it touches your nipple. Warm enough to be able to manage. Not too hot or too cold.
Add a spoonful of epsom salt to the warm water filled Haakaa.
Squeeze the bottom of haakaa and attach it to the engorged breast creating a suction.
Leave it on for up to 20 mins until you can feel the clog loosen up.
Try to repeat this process a couple of times to handle a nasty clog.
Bonus Note:
Follow the above process after a warm shower to make it work quicker.
You can also try to massage before and after attaching haakaa.
Try massaging using an electric toothbrush to help stimulate the milk flow.
Try taking a Sunflower Lecithin supplement before using Haakaa to help with unclogging process.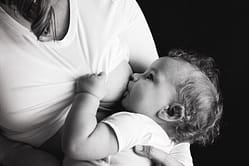 Does Epsom salt and Haakaa work?
It sure does! I am a mom of two little ones who are exclusively breastfed. And I struggled with an oversupply of milk both times and often had clogged milk duct issues. Epsom salt breast soak Haakaa has been a saviour and my go-to solution every time I have engorgement or milk duct.
How long should I soak my breast in Epsom salt?
A good Epsom salt breast soaks Haakaa for up to 20mins does create enough suction to pull the clog. But sometimes if the clog is too nasty, you can repeat the soak a couple of times until it is relieved. There are times I alternate this with a warm & cold compress to help relieve clog quickly.
No Haakaa! How do you clear a clogged milk duct with Epsom salt?
Ever thought of just using Epsom salt to unclog the milk duct? Yes, that is right. If you do not have a Haakaa, just do a soak in warm water with a spoon of Epsom salt in it. You can try using a bowl to soak or soak in your bathtub. Soak for up to 20 mins and wash up using clean water.
Now try pumping or nursing after the soak to help clear the clog quickly. If the clog is not pulled you can repeat the process several times.
How does Epsom salt help mastitis?
A clogged milk duct is very painful and if it is not treated on time it can lead to breast infection or mastitis. Mastitis is a very serious infection.
If you have a clogged duct and have flu-like symptoms, call your doctor right away. Mastitis is normally treated using antibiotics and doctors suggest pumping or nursing often to help unclog the breast. In rare cases, they even recommend surgery to remove clogged ducts.
You can use Epsom salt soak in between nursing to help relieve some swelling and draw out the clog quickly.
Haakaa without epsom salt?
The magical Haakaa is the best thing I ever invested in when I started my breastfeeding journey. While every mom raves about the Haakaa Epsom salt trick, you can also try to unclog the milk duct without Epsom salt. Here is simple how:
It is usually hard to help the baby latch on the engorged side of the breast. You can try to latch on to the other breast while you attach Haakaa to the clogged side. The stimulation and the Haakaa suction helps with the letdown and you might relieve some milk from the clogged breast with help of hand expression while Haakaa is still attached.
Then try nursing the baby on the clogged side with his/ her nose pointing towards the clog. This puts pressure on the clogged ducts and helps with the flow.
Other Promising ways to help unclog a milk duct
Nursing or pumping more often is the ideal way to clear any kind of clogged duct.
Try Dangle Nursing or nursing with your little ones nose pointing towards the clog.
Warm shower
Check out the detailed mom approved breast engorgement treatment to relieve clogged milk ducts.
More Breastfeeding tips & tricks
Sharing is Caring! Remember to share these tips with moms whom it can be of help.