Did you know about Ring of fire in childbirth? If you are in your third trimester and expecting to be in labor anytime, you might have heard people talking about their labor experiences and what happens during the labor.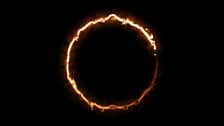 If you have heard and is concerned about the ring of fire childbirth, know that there are some simple ways to help manage them.
I have been through childbirth twice and learning ways to avoid the ring of fire in childbirth naturally helped a lot with pain management.
Disclosure: This post contains affiliate links. As an affiliate and amazon associate, I earn commission on a qualified purchase at no extra cost to you.
What's the ring of fire in childbirth?
Ring of fire birth or crowning childbirth is often referred to be the same but in reality, they are not. Simply because you can experience either one without necessarily experiencing the other.
Yes! It is totally possible that you experience the crowning of a baby without experiencing the ring of fire. Crowning is often referred to as the baby's head making its way out of the vagina while you are fully dilated and ready to push.
So in simple words, a ring of fire is the burning sensation that is created around the vaginal opening when you are experiencing crowning. All the stretching of the muscles to fully dilate for the baby to come out is what is the main cause for this.
How long does the ring of fire last during labor?
Well, if that sounded scary here is the good news. The ring of fire does not last for long!
It usually lasts for a brief period while your baby is making his/ her appearance. And it hardly ever appears during the early labor phase.
Related: 7 Sure signs that labor is 24 to 48 hours away!
Do you feel Ring of Fire with an epidural?
There is a high chance you will not feel the ring of fire sensation with an epidural. As epidural makes it all numb, you may experience a dulled down burning sensation or it may feel more like pressure than burning. And normally this depends on the amount of medication you take. The pressure is felt most when the baby is pretty low in the birth canal.
This was the whole reason I decided to take an epidural for my first baby and I almost did not experience the burning sensation and it was more of the pressure to push the baby out. But the second time, I did not have time for an epidural and I experienced the burning feeling for a brief amount of time until my baby was born (I can surely tell it lasted for more than a brief minute and I still cannot forget the feeling).
How do you stop the Ring of Fire in childbirth?
Well, the good news is there are simple ways you can try to stop the ring of fire in childbirth.
Perineal Massage
A lot of women claims that perineal massage helps a great deal to avoid the ring of fire pregnancy. Perineal massage before giving birth helps with stretching the vaginal tissues during vaginal delivery. It is highly recommended and most doctors provide instructions to do it at home nowadays.
Perineal massage not only helps with the ring of fire but also avoid an episiotomy or tearing reducing the need for more stitches. Check how to do perineal massage at home using two fingers.
Water Birthing
While this is a trending thing to do, water birth is known to have a lot of pros – for one you will not feel the ring or fire during childbirth. Water birthing is also known to reduce any kinds of perineal tearing and stretching.
I wanted to try water birth for my second baby but unfortunately did not get enough support.
Breathing
Sounds simple? Here is a simple explanation – When you breathe, the oxygen relaxes the muscles and helps a lot during labor. Check out the breathing techniques that help you during labor.
Do Not rush to push the baby out
Slowing down the labor process and taking time to breathe in between helps you a great deal and avoids any kind of tears or burning sensation.
Even though you feel the urge to push, hold on and listen to your doctor or midwife and push the baby with their guidance and support.
Related: Natural ways to induce labor – Midwives Brew & substitutes
How did I manage the Ring of Fire Birth?
Honestly, I did not experience the ring of fire the first time but I did have some second degree tears and that is when I looked it up to learn what is going on. At that point, I felt lucky that I had taken an epidural and did not feel any sensation of baby coming out.
The second time, I wanted to try unmedicated birth but was afraid to read about the experiences shared by others on the burning sensation. The best advice I ever read about was to embrace the burning sensation or ring of fire birth as it is caused due to stretching and not tearing. It is a relief to know that there is no damage that is created with the ring of fire instead it is the muscle stretching to let the baby out.
Did it hurt? – Hell yeah! But it is not anything worse than the normal labor pain. And the fact that it lasts for a few seconds, you might not even notice it with all the things you are going through up to this point in labor.
With my second baby, I felt the ring of fire sensation when I was fully dilated and it was time to push. It was awful and painful. But knowing 'it is just the way body is stretching and this will all be over soon' made me relax and embrace the ring of fire instead of doing anything about it. My midwife did help with some perineal massage which helped to an extent.
Final Thoughts on managing ring of fire in childbirth
All said and done, when you are getting ready for your labor and packing your hospital bag do prepare yourself to embrace the ring of fire. And know the fact that it does no harm instead it helps you with stretching. Learn to slow down and listen to your body. And do consider perineal massage and learn breathing techniques – they help a great deal with pain management during labor.
If you are still concerned about labor and looking for tips to manage the pain, here is a Birth It Up course by a labor nurse which is amazing! You can get a 10% off when you use the code SCHNOOGLE.
Lastly, I am so glad I knew that Ring of fire is of no concern and learned ways to embrace it. Just know that if you experience the ring of fire, it just means it will all be over soon!
Related: Learn about smart & helpful things to do before giving birth