Hey, Congratulations! – If you are reading this and you have almost made it to the last days and wondering about things to do before giving birth to your little bundle of joy. Doesn't it feel like time just flew? As the big day approaches, we keep thinking about what to do before giving birth? – it always feels like there is a lot to tackle before the baby arrives. Talking to a partner about managing chores, shopping for baby essentials, preparing home for baby, preparing to give birth, packing the hospital bag and the list goes on.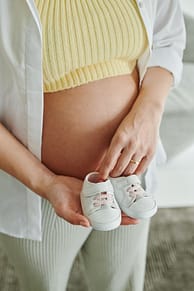 It may seem like the pregnancy will go on forever, especially in the third trimester, you will meet your baby before you know it. And in the meantime, most of us find the third trimester stressful because of all the to-do list that seems endless. Take advantage of the wait to get ready as best as you can for the exciting days. Make a list of what to do before giving birth. Advanced planning and prepping for labour makes it easier to relax.
Here are a few things I have put together that will help you with your preparation. Well, the list includes a lot of fun things to do before giving birth. Enjoy reading!
What should I do the day before I give birth?
1. Complete your Birth Plan
Have you thought about a birth plan, mama? It is the right time to decide upon the things you would wish to do when you are giving birth and after childbirth.
If you do not have a birth plan yet, you can grab your free copy of the birth plan from Hilary at Pulling Curls (A labour & delivery nurse). So, go ahead and print a couple of copies to keep it handy when you need it.
Speaking of a hospital bag, it is always a good idea to keep your bag packed after 32 weeks. You never know when the baby can actually surprise you. Here is a set of Hospital Bag essentials that will help you in your preparation.
With my first baby, I did not have the bag packed until 37 weeks and my baby girl was born surprising us at 37 weeks & 4 days.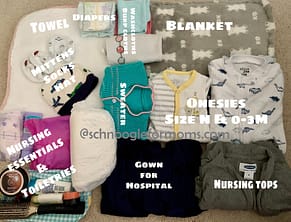 How can I prepare my body for easy labor?
3. Preparing to give birth? – Learn how to manage labor pain naturally
If you are worried about managing the labour pain and wondering if the breathing exercises that you learned in the prenatal class alone might not help, you will find this course Birth Prep 2.0 from Jamie boost your confidence in giving birth naturally.
4. Read a few positive birth stories before giving birth
Giving birth can be scary especially if you are a first-time mom. Take time to read up on different positive experiences. Having a positive mindset really makes a difference.
You can read about some positive birth stories that are shared by moms here – Birth Stories
What should I do the week before my baby comes?
5. Tour the hospital & do some trial runs
Some hospitals do offer a tour where you can go and familiarize yourself to know where the vending machines are or the waiting rooms, etc. And some offer a virtual tour. Hope you have picked a place where you want to give birth. If not use this time to finalize.
Trial runs to the hospital during your third trimester really helps you time how long it will take you to reach peak traffic. That way you can decide to start on the estimated time when you are in labour.
This is one of the most important things to do. Often, moms ignore the recovery and end up focusing more on birth. Do plan on things to do when you come home with a baby. Here are a few postpartum essentials and tips that helped me. Do not forget to grab your free Postpartum plan cheatsheet.
7. Prepare your home for baby
You must already have a baby checklist to buy before the baby's arrival. Utilize this time to prepare & keep the home ready for the baby including cleaning, baby-proofing, organizing, etc.
Read more about Preparing a home for baby & Baby checklist to help you with the preparation.
8. Decide on the baby name shortlist
This is a fun thing to do & a great distraction in your third trimester. It is not essential to have a name ready but it really is fun to have a shortlist of names before you get really busy after the baby is born. Involve your partner or family members if you wish to add more fun.
9. Choose a Pediatrician
This can be a tricky one but having chosen a good paediatrician helps you to sleep peacefully. Talk to your fellow mommies who already have kids to get some good recommendations. You can also interview the doctor before picking him/ her as your paediatrician.
If you cannot do this, do not worry. Hospitals do give you a list of recommended paediatricians which can be helpful.
Related: What are the signs that Labour is close?
What should I do in the last 4 weeks of pregnancy?
10. Discuss on Maternity Leave & Childcare before giving birth
If you are a working mom, discuss your maternity leave options with your employer & your partner. It helps in making all the childcare arrangements in case you would want to return to work early.
11. Get ready to Breastfeed
If you are a first-time mom, you might not know what exactly to expect when you start to breastfeed. Breastfeeding can be challenging at the beginning. Prepare your breastfeeding kit with all the essentials.
Take up an online breastfeeding course and here are some links that help you prepare to breastfeed:
13. Spend time with your Husband
Spend all the time that you need while it is just the two of you. Enjoy movie nights, go to restaurants, go on drives when you can before you both get busy with baby chores. This will not only help you relax but also take your mind off of the baby overwhelm.
And believe me, you will thank yourself for doing it as it gets really difficult to get some alone time after the baby is born (at least for a few weeks).
14. Sleep, rest & do something for yourself
It definitely feels like there is a lot on the to-do list but please do plan to take some time for self-care. Soak in a warm tub, read a book that is not about babies, Binge on some Netflix show, sleep & rest as much as you can. Read about 8 ways to enjoy & relax during pregnancy.
15. Take lots of pictures
Taking pictures not only makes you re-live the moment but also makes you enjoy the present one in creating memories. I can totally remember the moment & laugh when I look at my bump pictures. If you can do a photo shoot. Believe me, you will not regret it later.
16. Try Yoga & Exercises
If you are wondering if exercises are safe during pregnancy, read about the benefits of exercising during pregnancy written by Peggy who is also a mom. Honestly, prenatal yoga & exercises were most helpful during my third trimester to ease all the lower back pain and get good rest. It also helped in speeding my labour. Do plan to take up some prenatal sessions to help you prepare your muscles for the big day. My friend Jamie is a trained prenatal instructor and she has a great set of services to offer. Here is a glimpse of her stability ball exercise during the third trimester.
17. Spend time to engage & prepare older child(ren)
I realized the importance of this during my second pregnancy. It sure is overwhelming to have to care for older children when you have a newborn. Preparing them to be a little independent helps you keep your sanity. Read about dealing with toddlers & newborns on my website.
Things to do in your Third trimester!
There you go! I hope the above bucket list helps you with the things to do in your third trimester before the baby arrives. Remember not to have too many to-do lists and plan to rest as much as you can.
Do not forget to pin this for later reference. And let me know what you crossed off the list in the comments below. Do follow me on FB for more tips on Motherhood!
Good luck Mama!