When it comes to entertaining toddlers, it's the number one hardest thing that I have ever done. While there is no one perfect activity that keeps them entertained or busy, it is definitely worth giving a try to keep them occupied (for sanity's sake)! I am making this list of easy and simple toddler activities at home that I have tried, tested & learned from other moms online so it can help you to keep your active toddler entertained/ busy at home. The best part is you do not need anything extra and yet make it entertaining for toddlers!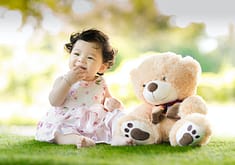 Toddler activities at home – What to expect?
Somethings that I learned which I want to share as a disclaimer:
Toddlers at around age 1-3 years are very busy and easily get bored; so avoid having a perfect expectation for your activity to work out.
Give toddlers the opportunity to explore. It creates more interest in the activity.
Expect them to be not interested or might take time (sometimes a day or two) to show interest in the activity.
Keep in mind if they tend to put things in their mouth while planning the activities.
Easy and simple activities at home to keep toddlers busy.
1. Stacking things and knocking them down
You can use blocks, plates, cups, or anything that can be stackable to make this activity fun. This simple activity not only is entertaining to your toddlers at home but also is great for sensory development. You can make this fun by stacking colourful objects or shapes to help to learn.
2. Scooping ice from water
Kids love to play with ice cubes. This activity just needs a bucket of water and some ice cubes. You can add colours to the water to make it fun. Give them a scoop and an extra cup to scoop ice from the water. This keeps them busy for up to an hour (you might have to reload ice cubes and water). Please note this activity is messy and fun to play in the backyard or bathtub.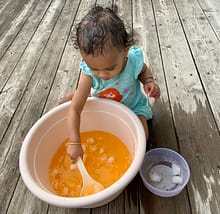 3. Rainbow rice/ spaghetti
The joy of colours! This is a great learning activity for toddlers if you want to teach colours the fun way. All you need is uncooked rice or cooked spaghetti and some food colours. Give them coloured rice and a scoop to keep them busy for hours. You can hide toys inside and play peekaboo. Or add edible food colors so they can explore and you don't have to worry if they put them in their mouth.
4. Eggshell color smash
This is a super fun activity at home for toddlers! All you need is to save some eggshell, use shaving cream or face cream and colours to make foam inside the shell and kids can smash them to see colours. This activity can be done in various ways. If kids recognize colours or can read, you can fill the shell & ask them to find the colours or it can be used to teach younger kids different colours. This activity might need adult supervision based on the age of your kid.
5. Transfer water/ food
Another great activity at home for cranky toddlers. Give them water or rice or anything that can be transferred from one cup to another. There is a mess involved but believe me, this activity can keep them busy for hours. There is something with the transfer that attracts kids. This is also a great sensory activity and helps kids learn coordination.
6. Saving the frozen toy
All you need for this activity is a small toy that can be immersed in a bowl of water and frozen in a freezer. Give them along with a cup of water to save the toy by pouring water on ice. Keeps them busy for hours.
This is a great learning activity at home for curious toddlers. All you need is a shape sorter that you can buy online for a low cost. While they learn shapes & colours, you can also make it interesting by asking them to pick a different object of same colour or shape.
8. Homemade play dough
Nothing complicated. Just a simple all-purpose flour dough would do. Add edible colours to it to make it more fun. You can use cookie cutters or stamps to add fun. I use these alphabet cutters to entertain & help my toddler learn.
9. Scooping activity
This seems to be an all-time favourite for my toddler. And all you need for this simple activity is some rice, pulses, flour or any edible objects that can be scooped using a scoop. They love to mess up and explore!
10. Fruit loop necklace
This is a fun activity. Give your toddler a string tied at one end and a plateful of fruit loops so they can slide each loop on to the string making it a necklace. You can later put this necklace on to your toddler and to eat.
11. Painter tapes on a balloon or wall
So thankful for the existence of painter tapes. Toddlers just enjoy peeling those painter tapes and sticking them back. This activity can be versatile. Use a piece of paper, balloons, wall, table, or door. All you need to do is stick them in pieces and keep the toddler busy pulling them out. If you have a cranky toddler who gets restless when they have nothing to do, this can save your day!
12. Scribble scrubbies – Bathing toys
While this was an impulsive buy (or that's what I initially thought), this has been a great sanity saver at home. Playing with water and colours – what more can be fun and entertaining!
13. Ripping magazines
While I am completely against tearing papers or books, this activity is something I let my toddler do to keep my cool on a cranky day. Really helps if you just need to distract them from a tantrum or need a minute for yourself.
14. Bubble Bath
If your toddler likes a bath or just like playing with water for long, making them a good bubble bath is not only fun but also relaxes them. We dedicate a day in a week to bubble bath. And my toddler gets so tired after playing, takes a real long nap.
15. Sticker book
I picked up a few sticker and colouring books which were on sale and my toddler loved to recognize and stick the stickers in the book. Great sensory activity and also helps to make them sit in a place for a while.
16. Bubblewrap jump
What do you do with all the bubble wraps you get from amazon or any parcel deliveries? Place them on the floor and let your toddler jump around for fun. This activity never gets boring. You can save the wrap and use it over and over again for a couple of days in a row.
17. Finger Painting
You can use yoghurt or edible paint or supervise if you are using acrylic paint. Enjoy the mess by exploring and letting your toddler freely paint with fingers.
18. Vegetable painting
Use vegetables like okra, onion, carrots or any vegetables cut into shapes and use as stamps. Let toddlers explore the art by dipping the vegetables in paint!
19. Exploring flour
Give toddlers a tub with flour and let them explore. Caution – this is a messy activity! but so much fun for toddlers to draw in the flour or just scatter around the house.
20. Help with cooking & cleaning
Ever wondered you can get help at home from your toddler? Yes, they are the most resilient and helpful people who can totally help you with your chores. Give them a wet tissue and ask if they can help you clean or help clean vegetables – you will be surprised to see them enjoy doing these activities.
21. Pop bubbles
You can either get a bubble popping machine or a manual tumbler with soap solution to blow bubbles and ask toddlers to pop. This is my go-to activity when I run out of ideas to entertain my kids.
Did you try any of the above toddler activities at home to entertain your toddler? Do let me know if something worked. I would love to hear your feedback. Also, please do share any other easy and simple activities at home that has helped you in entertaining your toddler at home. I would love to try them with mine!
Check out fun ways to celebrate a baby's first birthday at home.