Did you make a Postpartum Essentials checklist yet? While the focus is entirely on preparing for a new baby right from the moment you know you are expecting, we always forget to prepare for a new mom who is also reborn. I made this ultimate list of items that will help a new mom after giving birth from my experience.
This is a perfect postpartum bag checklist that a new mom would need irrespective of how you plan to birth (vaginally or c-section). Yes, that is right! This list covers c section bag essentials that you need during your postpartum.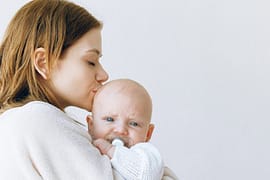 What should first time moms know?
There are a lot of books and classes to help prepare for birth but preparing for postpartum care is also crucial every time you have a baby as the experiences differ and you might not be aware of the unknowns.
Some things that really helped me prepare for my postpartum include a better postpartum support system for breastfeeding & newborn care. Here is my favourite course recommendation – The breastfeeding course from Stacey & Newborn 101 from Liesel (labour Nurse).
Related: What mom needs in hospital bag?
Related: What are the most essential baby items?
Postpartum essentials checklist – What do I need to buy for postpartum?
Stock up on extra-large overnight absorbent maxi pads for the initial days of heavy bleeding. Along with some normal sanitary pads, so that they can be used when the bleeding decreases.
Stock up on big cheap underwear that can be disposed of after the initial weeks. I had a couple of disposable underwear as well the second time but did not get a chance to use them.
Postpartum bleeding varies and can last up to 6 weeks. With my first baby, I needed the overnight giant pads for up to 10 days while with my second one, I used them just for a week and then used the normal ones. So buying a pack of 10 or 20 were more than sufficient.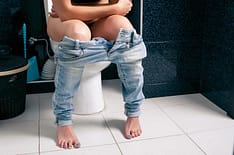 This is the item in your postpartum essentials checklist that you totally cannot live without after giving birth. You will most probably get one from the hospital but you can grab a couple of them here for a cheap price. These are of great help in keeping yourself clean down there which helps in quick healing.
Having a couple of squirt bottles helped me as I did not have to be stuck in one washroom & it definitely can be used for various purposes later (including squirt gun activities, spot cleaning, etc..).
3. DIY padsicles
A lot of mom's love using Tuck's pad or witch hazel DIY padsicles (add witch hazel on the postpartum maxi pads and freeze them overnight). I honestly did not invest in any of them and preferred an ice pack & occasionally a hot pack while I sit down & it worked fine for me both times.
4. Comfortable PJs and gowns
In the initial few days (or months I would say), wearing a comfortable PJ or gown helps to get up easily or stay comfortably. You can include some nursing tops & cardigans in your postpartum bag checklist instead. I literally lived my entire postpartum in my nursing tops & PJs.
5. Prenatal Vitamins & Painkillers
This is the most ignored item in the postpartum bag checklist that you cannot forget. Being a mom of two, I remember forgetting my prenatal vitamins(as prescribed by your doctor) while caring for my little one's needs. Mama, always remember to take them. Keep them in a diaper caddy or breastfeeding caddy or keep a reminder, but always take your prenatal vitamins. That helps in staying healthy while you breastfeed & care for your baby.
The after pains increase with subsequent babies and painkillers are the only way to manage them. Stock up a bottle of Tylenol & Advil in your postpartum basket.
There will be cramps during the initial week after giving birth (Vaginally or C-section). Heating pads help relieve some soreness. I extensively used heating pads and cold packs during my recovery.
You will need a stepping stool if you are planning to give birth via C-section. To help you climb up and down from bed easily.
Doctors suggest stool softeners post C-section birth as opioids can cause constipation. You will need Colace capsules in your postpartum kit if you gave birth via C-section. Even for a vaginal birth having a stool softener handy can help during the initial days as it is better to avoid any kind of push down there.
Related: 7 Sure Signs your body is getting ready for Labor
What are the essentials for new mom to help with breastfeeding?
When it comes to buying nursing clothes, bras are most essential as you are definitely going to use them for up to a year. While saying so, you can also add some nursing tank tops to the list which is useful and has a built-in bra and they are super comfortable especially during the night feeding. These are my favourite nursing clothes that I used after giving birth & I highly recommend to add to your postpartum list of items.
Breast pads are lifesavers to catch all the milk leakages & keep you dry. These were my favourite as it always helped me keep dry and was not seen through my clothes.
I remember I nursed without a nursing pillow with my first baby and struggled by stacking up the regular pillows and eventually hurt my posture. For my second baby, I decided to buy the nursing pillow which helped me a lot with posture and back pain.
While breastfeeding is natural, it need not be easy. The soreness, discomfort, and pain are normal in the initial weeks. Having a nipple butter handy helps you to nurse comfortably without having second thoughts of quitting. I personally preferred using coconut oil literally after every feed to soothe the soreness as my daughter did not like the taste of nipple butter and that helped too.
If this is your first time, check out the affordable online breastfeeding course that helps you with tips and tricks to nurse your baby.
Haakaa is a silicone pump that helps you collect all the extra milk that leaks while you nurse the baby on one side. This 20$ product is a great buy and helps you so much during your nursing journey. It is a great add on if you are looking to stock up on your freezer stash. This is number one on the list of items on what a new mom needs after giving birth from my experience. Check out the Legendary Haakaa hack to help with clogged milk ducts.
Related: Simple & Easy ways to relieve Clogged milk ducts
What is included in routine postpartum care?
1. Rest after giving birth
This by experience is the most important item on what a new mom needs after giving birth. Take it easy Mama! Take as much rest as you can for the first 10days to help you recover fast. Enjoy cuddling up with baby & get some rest. If you can prepare your family to help during the initial weeks. A support system is a great help.
2. Freezer Meals & Help
Prepare for some quick & easy meals for the few days after giving birth. You can either prepare a few freezer meals or have friends & family drop off some food so that you can rest up. You can also plan to have your partner or someone watch the baby while you rest for a while. Planning to have someone to help is top on the list for what a new mom needs after giving birth.
Here are some ways how dad/ partner can help during the initial days.
3. Snack box & Water
You feel very hungry & thirsty while nursing a baby. Prepare a healthy snack box that you can go to & keep near your bed so you can much on anytime during the day or night.
Always have a bottle of water as staying hydrated is very important after giving birth. And you will feel thirsty while nursing.
4. Netflix, Kindle & Headphones
Whether you like watching TV or reading a book or listening to music, nursing is a great time to catch up on some entertainment. And I love cuddling with my baby on my glider while I catch up on some sitcoms or read a great book. Staying healthy mentally is also very important after giving birth.
Take it, easy Mama! This Postpartum essentials checklist will help you prepare better.
Having a baby is hard work. You definitely deserve some rest and time with your little one. Have your support system handy & make sure you have everything covered from the above postpartum bag checklist.
Good Luck!❤
You can opt in to receive tips and tricks that I have tried and tested. Subscribe to my email list here and enjoy all the freebies.