Eating during the first trimester of pregnancy can be a tricky business and you usually keep looking for what to eat when nothing sounds good. Your body is going through a lot of changes and your cravings might seem all over the place. Not to forget how tiring the morning sickness and nausea can cause and you almost always not feel like eating anything.
However, it's important to make sure you're getting enough of the key nutrients you need to keep you and your baby healthy during this critical period in your pregnancy. And there is a proven theory from OBGYN that if you eat in small amounts more frequently, you can manage nausea better.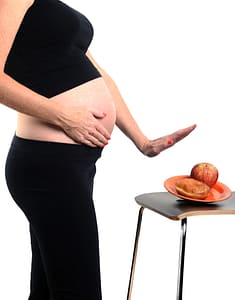 Related: Check out Simple Pregnancy Hacks that help fight discomfort.
Here are some important nutrients that are best for pregnant women that include in what to eat when nothing sounds good :
Proteins: Protein is an important nutrient in your pregnancy diet as it helps your baby's cells develop and grow. Good sources of proteins include lean meats, eggs, fish, nuts, beans, and dairy products like yogurt and cheese. Try to include proteins in all of your meals and snacks to get the nutrition you need.
Fruits and vegetables: Make sure to stock up on plenty of colorful fruits and vegetables during your pregnancy. Fruits and vegetables are packed with vitamins, minerals, and antioxidants that are good for you and your baby. They also help to keep you full, so try to fill up on these nutrient-rich foods.
Whole grains: Whole grains are a great source of fiber, which can help to keep you regular during pregnancy. Eating whole grains can also help to prevent constipation, which is a common symptom during pregnancy. Choose whole grain breads, cereals, oats, and other grain products.
Healthy fats: Healthy fats like olive oil, avocados, and nut butters are essential during pregnancy. They provide essential fatty acids and help to keep you feeling full longer. They're also great sources of energy, so keep them in your meal rotation.
Iron-rich foods: Iron helps to transport oxygen to your baby and keeps your energy levels up. Make sure to include iron-rich foods such as spinach, beef, and fortified cereals into your diet. Also, try to pair your iron-rich foods with vitamin C-rich foods like oranges, peppers, and tomatoes to help with absorption.
These are just some of the many foods you can incorporate into your diet during the first trimester while you think of what to eat after vomiting during pregnancy. Eating a balanced diet is important to support your own health as well as the health of your baby. So make sure to mix in some of these nutrient-rich foods to ensure you're getting everything you need.
Why do I feel so sick when I eat while pregnant?
While morning sickness is one of major symptoms of pregnancy, there is no official reason that cause nausea after eating during pregnancy. Some factors that might be the potential reason include:
High HCG levels or elevated estrogen hormone levels.
Pregnancy heartburn that might cause nausea due to reflux.
Less efficient digestion due to pregnancy hormones relaxing the digestive tract.
Eating high fat or too much food that can make the stomach unsettled.
Sense of smell that are overactive due to pregnancy hormones.
Related: Causes for Nausea and vomiting during pregnancy
What helps pregnancy nausea all day?
Nausea during pregnancy can be an unpleasant and uncomfortable experience. The good news is that there are a few steps you can take to manage your nausea and find relief.
First, it's important to eat often and keep your stomach from getting empty. This will help prevent your stomach acid from building up, which can make nausea worse. Try to stick to a regular meal and snack schedule and keep small snacks handy to munch on throughout the day. Avoid large meals and fatty, greasy, and spicy foods, as these are more likely to worsen your nausea.
Drink plenty of fluids to stay hydrated since dehydration can make nausea worse. Water and sparkling water are great options, but if plain water doesn't appeal to you, try fruit juices, herbal teas, coconut water, or sports drinks. Avoid caffeine, alcohol, and sugary drinks, all of which can make your nausea worse.
Ginger and peppermint can help reduce nausea. You can drink ginger tea, munch on ginger chews or candies, or sip on peppermint tea. Essential oils of peppermint and ginger can also be used aromatherapy.
If you feel nauseous when you get up in the morning, try eating something before you stand up. Try crackers or other dry, plain foods like cereal, toast, or pretzels.
Lastly, if you're feeling too nauseous to eat, you should speak to your doctor. They may suggest medication to help manage your nausea.
With these tips, you should be able to successfully handle your nausea and enjoy a comfortable pregnancy.
Related: Here are some great snack ideas to pack in your hospital bag
What to eat when nothing sounds good while pregnant?
Vomiting during pregnancy is a common and often debilitating condition that can cause a range of bothersome symptoms. It is important to remember that while you may be feeling ill, it is important to still eat nutritious foods in order to ensure that you and your baby receive the essential nutrients needed for growth and development. Here are some tips on what to eat after vomiting during pregnancy to get back on track and feel better, faster.
First, rehydrate! After vomiting, you may be at risk for dehydration due to the loss of fluids. Make sure to replenish your body with plenty of fluid—water, electrolyte sports drinks, clear juices, or broth-based soups are all good choices. If you are having trouble keeping nourishing liquids down, try slowing sipping small amounts more often rather than drinking large amounts at once. Avoid alcoholic and caffeinated beverages, as well as those high in sugar.
When it comes to food, ease back into meals gradually. Start off with light, bland foods like toast, cooked cereal, soft cooked eggs, applesauce, crackers, and bananas. You can also switch up the textures and temperatures of your meals. Try consuming cold or room-temperature foods over hot meals, as well as softer foods over crunchy ones. Avoid acidic, spicy, and greasy foods.
In addition to these specific guidelines, it is important to remember that getting nourishment should be your top priority. If a certain food is unappealing, try another option. Listen to your body and take it slow. Try not to work yourself too hard, and get plenty of rest. And if you're still having difficulty keeping food down, or if nausea persists or worsens, contact your healthcare provider for further information and advice.
I hope I have helped you with what to eat when nothing sounds good or what to eat after vomiting during pregnancy! Please feel free to share your thoughts in the comments below.
Take care❤