If you are reading this, you most probably are googling natural ways to induce labor coz your due date is come and gone. And wondering if Midwives Brew that you stumbled upon will even work. This article details the safety, success rate and ingredients of this magical drink which help induce labor naturally in 24 hours.
PLEASE MAKE SURE TO NOT TRY IT WITHOUT TALKING TO YOUR DOCTOR AND UNTIL YOU ARE PAST YOUR DUE DATE.
Disclosure: This post contains affiliate links. As an affiliate and amazon associate, I earn commission on a qualified purchase at no extra cost to you.
Is Midwives Brew safe to induce labor naturally?
May Be. With an 85% success rate, the research says it is probably safe to try as long as the pregnancy is normal with no complications so far. That is why I recommend checking with your physician before you try these natural ways to induce labor.
Be aware that one of the ingredients that are part of this drink is castor oil which is known to make some women nauseous making them dehydrated and upsetting the GI tract.
Related: Prepare for labor using these simple tips
Check out the Induction 101 course and Birth It Up course to prepare yourself for natural birthing. It is taught by a registered nurse practitioner who is an experienced labor nurse. You can use my code SCHNOOGLE to get 10% off of your online birthing class purchase before it is too late!
Most Common Side-effects of midwives brew used to kickstart labor
While this natural way works to kickstart labor 85% of the time, there are some common side effects that are the most common complaints. Do note it could pose danger to the baby if there is any medical condition or if the baby is not full term.
Irregular contractions that are not labor contractions
Dehydration and irritable GI tract
Nausea, Vomiting & Diarrhea
Fatigue & Dizziness
What is Midwives Brew?
Also known as 'German Labor Cocktail' as it is most popular with midwives in Europe, this is a natural inducer if you have passed your due date and looking to induce at home. After a full 38-40 weeks of pregnancy, the anticipation of your baby's arrival seems to be more than you can handle. And you start googling ways to start labor naturally.
Research says with an 85% success rate, this is the most common method used to induce labor naturally. While reading a lot of birth stories, it looks like 8 out of 10 women went into labor within 24 hours after trying this method. While it seems effective, it is also gross because a lot of women vomited short after consumption coz of the ingredients present in this concoction and most of them find it hard to drink it.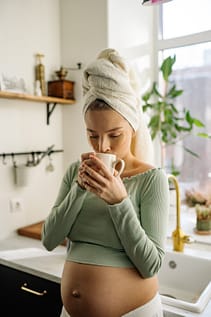 Here's the Midwives Brew Recipe
All you need to prepare this naturally inducing cocktail is Lemon Verbana, Apricot Juice, Castor Oil & Almond butter to kickstart labor in 24 hours.
Ingredients (Get them all on amazon using the link below)
Instructions
Boil some water and brew the lemon verbana tea. Let it settle for sometime (make sure the tea brew is pretty strong).
Add rest of the ingredients to a blender and blend until smooth.
Pour into a glass and drink the concoction warm in empty stomach. You can drink it with cold if you prefer but it seems to be more effective when warm.
Midwives Brew Recipe Substitute (Including without Castor Oil)
While the above ingredients are known for proven results, some women does seem to experience results with some ingredient swaps.
Castor Oil is the most questioned ingredient swaps. Castor oil is the main ingredient in this recipe as it is known to stimulate contractions and labor from ancient ages.
If you are looking for Midwives Brew recipe without Castor Oil, you can try to swap it with Cayenne (or anything spicy) and raspberry leaf tea (which is most often suggested by midwives). However, Castor oil seems to be the main ingredient in this recipe.
Apricot Juice can be difficult to find and most often women look to swap this ingredient. As per what I have read, apricot juice is simply used to mask the unpleasant flavour of castor oil. You can choose a strong flavoured fruit juice like mango, peach or pineapple to replace apricot juice.
Lemon Verbana is mostly used to help settle the stomach and the disturbed GI tract due to castor oil. This is also known to help with nausea. If you cannot find lemon verbana tea, the better alternative is to use the lemon verbana essential oil.
Almond Butter with its stickiness has the ability to help castor oil stick to your intestines. It is also known to reduce diarrhoea. If you prefer, you can swap almond butter with peanut butter or any other nut butter of your choice.
While drinking this can be extremely hard, some women suggest to try smearing the castor oil and almond butter blend to a toast and eat it along with apricot juice & lemon verbana.
Can I drink Midwives Brew at 35/ 36/ 37 weeks?
It is NOT ADVISED to try any natural ways to induce labor before the full term even if it is a normal pregnancy with no complications unless advised by a physician or midwife. So a straight NO to trying to induce labor at 35 /36/ 37 weeks.
If your doctor or midwife is suggesting to induce for medical reasons, do check with them before trying midwives brew or any natural ways to induce labor at home.
What can I drink to go into labor fast?
While the above recipe is one of the best ways to induce labor naturally, there are other well-known drinks recommended by midwives that helps with cervix softening leading to labor.
Again DO NOT TRY THIS WITHOUT CONSULTING YOUR PHYSICIAN.
Raspberry leaf tea is the most recommended drink to induce labor naturally. Raspberry tea is known to boost blood flow to the uterus thereby initiating contractions and labor.
Pineapple juice are rich bromelain enzyme which triggers contractions and is highly recommended to induce labor naturally.
Evening Primrose Oil is found to be effective to induce labor naturally because of presence of GLA which is a precursor of prostaglandins hormone that helps soften cervix.
Balsamic Vinegar is another ingredient that has recently got some reputation in helping kickstart labor. Although there is no study to prove, this has been used in a well-known restaurant in California and their dish – maternity salad and pizza comes with balsamic vinegar as secret sauce to kick start labor.
How can I soften my Cervix naturally?
Some other natural ways to soften your cervix naturally are:
Try rocking, bouncing and rotating your hips on a birthing ball. This is a proven method to help open up cervix and speed up your labor.
Walking around works great with gravity and puts pressure on your cervix helping to soften and dialate.
Nipple stimulation is another well known technique that helps your pituitary glands to produce hormone Prolactin leading to cervical softening and labor initiation.
Eating Spicy food may trigger contractions and induce labor.
Sex is most often recommended ways to induce labor as the hormone prostaglandins help soften cervix.
Take up this Induction 101 which helps you with 20+ proven ways to induce from a Labor nurse practitioner.
Take Away!
Take it, slow mama!
While induction sounds exciting especially after a long wait and going through all the pregnancy discomforts, it is most important to take precautions to avoid any kind of danger to you or your baby. I Highly Recommend NOT TO TRY ANY ABOVE WAYS TO INDUCE LABOR WITHOUT CONSULTING YOUR DOCTOR.
While there might be some medical reason why doctors might suggest induction, sometimes you might just go into labor without being induced. I have experienced it with both my babies. Sometimes, too much stress can also delay your labor. Relax and enjoy all the pregnancy time that you have and prepare your home for the baby's arrival. And most importantly plan your postpartum which can save your sanity.
Related: Check out these 17 smart things to do before giving birth.
Wishing you all the best Mama! ❤